When first configuring the HAVEN Automations settings for a Dehumidifier or Humidifier at the time of the HAVEN Controller installation, you can now pick a custom Relative Humidity Setpoint.
Based on ASHRAE and EPA standards, we recommend RH levels stay between 30–50% where possible. However, knowing this is not always ideal or achievable in certain climates, we now allow you to customize your customers' RH Setpoints between 10–90%.
HAVEN has a 6% Db (Deadband) setup which allows for some wiggle room between equipment deactivation and activation periods.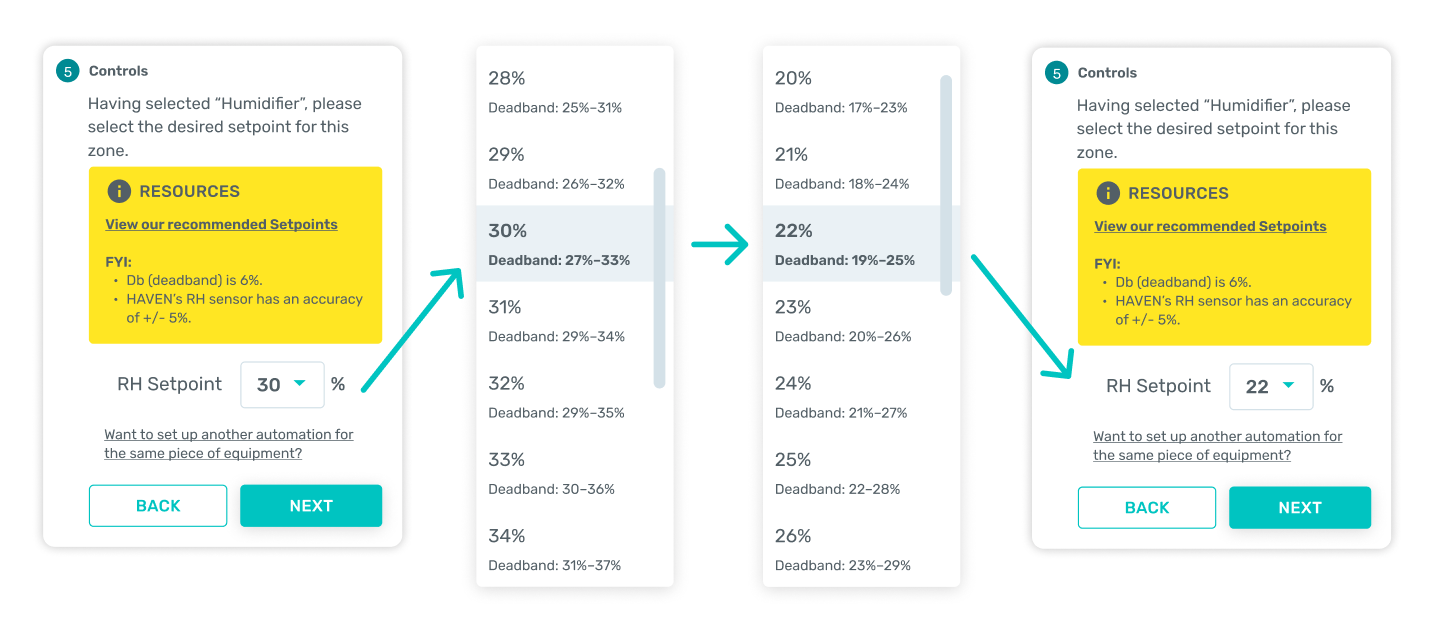 When is this helpful?
If your customer prefers a higher or lower RH level for comfort reasons,

OR if you're setting up the Automations for a Humidifier on the brink of winter and want to lower the RH Setpoint to prevent condensation build-up on windows and doors, or even prevent harm to the equipment itself.
FAQ
I prefer to set up my customer's RH Setpoint based on Outdoor Temperature Reset. Are you planning on incorporating this at some point?
Yes! We're planning to have that integrated in the fall of 2022, just in time for the winter months.


How do you handle the Controller being installed alongside a humidistat?
In theory, the Controller would override controls coming from the humidistat because it's wired up directly to the Humidifier or Dehumidifier.

Here's how a Controller and humidistat should behave together when the humidistat is using a proper dry contact circuit:
| | | |
| --- | --- | --- |
| HAVEN Commands | Humid-stat Commands | Resulting Humidifier Status |
| OFF | OFF | OFF |
| ON | OFF | ON |
| OFF | ON | ON |
| ON | ON | ON |

If you have any questions about how the HAVEN Controller connects to De-/Humidifiers, check out the spec sheet here or contact HAVEN Pro Support.

Can my customers edit their RH Setpoint post-installation?
We recently launched this feature in the HAVEN IAQ App. We have included a thorough walk-through here.




Related Articles
---
For assistance with your humidity controls or any HAVEN queries, you can contact us directly via