Products affected: The HAVEN IAQ Mobile App & Newly Installed Central Air Controller.
Background & Summary
The HAVEN Central Air Controller is now available for purchase through HVAC Supply houses across North America
To install the Central Air Controller, the professional uses the HAVEN IAQ App to provision the device to Wi-Fi. During the install process, the Controller will attempt to perform a firmware update to enable the full functionality of the product ecosystem
We have discovered a technical issue during the firmware update process which results in the professional to be unable to complete the install process
We are working on the software changes in the HAVEN app that will guide the installer through the steps, which should be made available publicly within the next week or two
In the mean time, the professional will have to perform the following workarounds
Workaround: Provisioning Lockup During Install
If you are currently installing a Central Air Controller, your device may get stuck in a connecting-to-wifi state, where the Status LED blinks green indefinitely during installation. If this happens to you, do one of the following:
Power cycle your Controller and by removing one of the power wires, or turn off/unplug the power source and power it back up.
Perform a soft-reset of the controller using the reset pin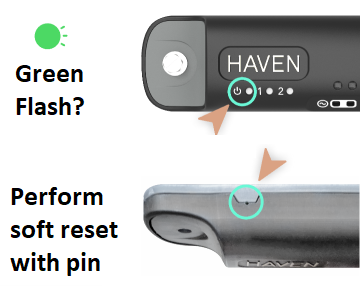 Once the device has been power cycled or soft-reset, you should be able to resume the installation. If this does not resolve the issue, please call or text our HAVEN Pro Hotline at 1-833-4-IAQ-PRO (or 1-833-442-7776).
Workaround: Over The Air Update During Install
Upon first connecting to the cloud, the controller will also attempt to perform a software update, where the status LED will alternate flashing between green and blue. This could take anywhere between 1 and 10 minutes to complete, so please just be patient while the update completes.
During the update, please do not take any further action in the HAVEN IAQ App, as any selection will likely result in an error code and a notice to try again.
The process is over once the status LED turns solid green, with a possible intermittent blue blink every 10 seconds. Now you can proceed to complete the installation using the HAVEN IAQ App.
If the process takes longer than 10 minutes, please call or text our HAVEN Pro Hotline at 1-833-4-IAQ-PRO (or 1-833-442-7776).