Automations now come with FULL CONTROL
We launched some new Guided Workflows this year that focused mainly on the Pro's experience when installing HAVEN alongside ventilating dehumidifiers and outdoor dampers. Because we're a small team, we usually have to divide up the work in order to conquer it in chunks. This meant that the homeowner's experience for interacting with these new installation options has lagged behind a bit.
This had impact on you and your customers
What if homeowners wanted to VIEW or EDIT their automation settings? What if they wanted to ACTIVATE one of their Automations outside of when HAVEN was detecting out-of-the-ordinary levels?
Homeowners had to call you up anytime they wanted to change a setting. And no ability existed for them to turn solution equipment on to make their home more comfortable when they felt the need.
How we went about it
We wanted to give this control back to the homeowners, after all, they are the ones that are living with the system, and they've likely paid a pretty penny for new filtration, ventilation or humidity control equipment!
How this helps your customers
Now, homeowners can use the HAVEN IAQ App as a remote control for their IAQ equipment: VIEW, EDIT and OVERRIDE any type of Automation that's set up in their home. They also have the ability to edit the Circulation Schedule for Awake and Sleep Routines.
How can it be accessed
Head on over to the Menu / My Home:
System tab
Shows homeowners the HAVEN Monitors and Controllers they have installed. If they have multiple zones set up in your home, they can switch which zone is being viewed in the top right corner of the app.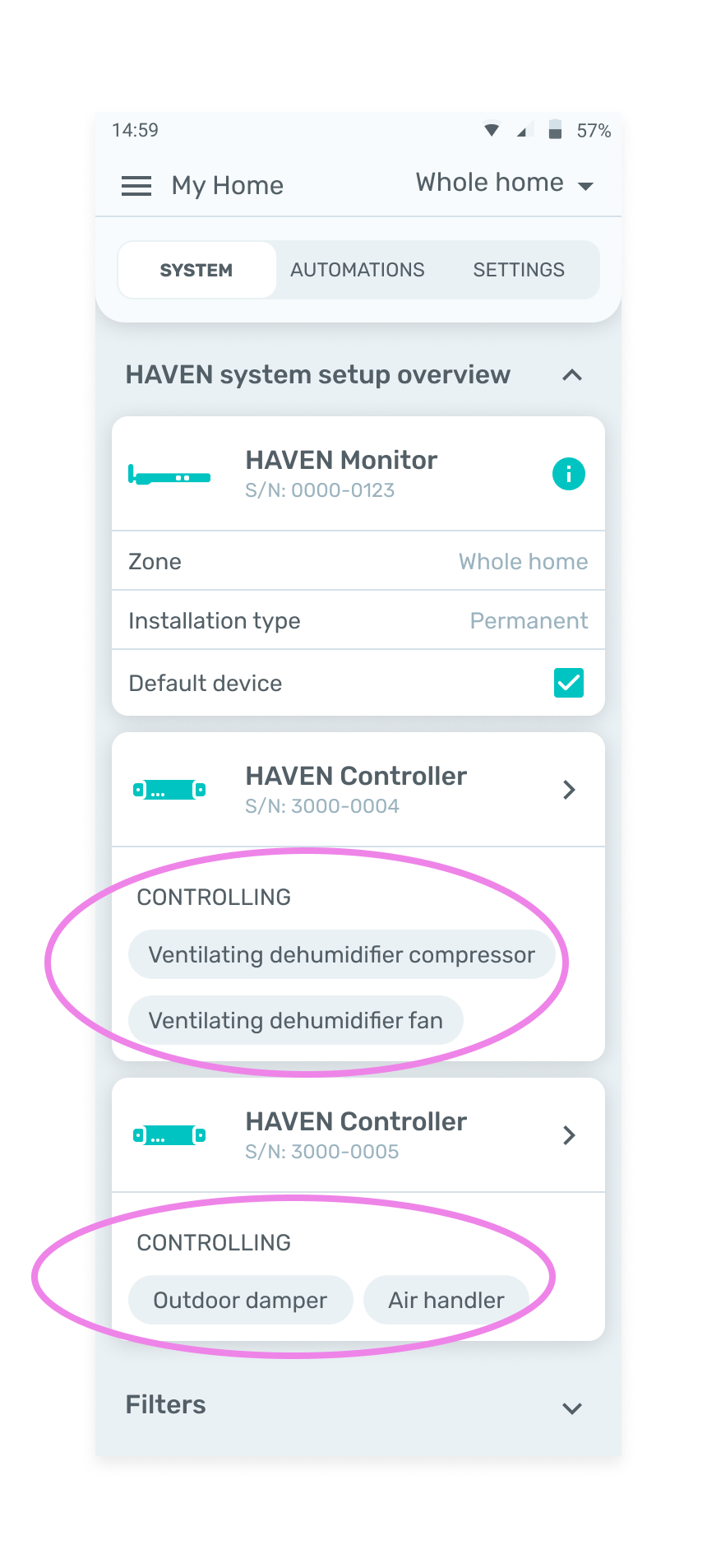 Describes what each Controller is wired up to

Click through to see what kind of Automations each piece of equipment is a part of!
Automations tab:
Shows all Automations in this zone by IAQ pillar: Filtration, Ventilation, Humidity Control and Circulation. Homeowners will see what combination of equipment is part of each Automation here too.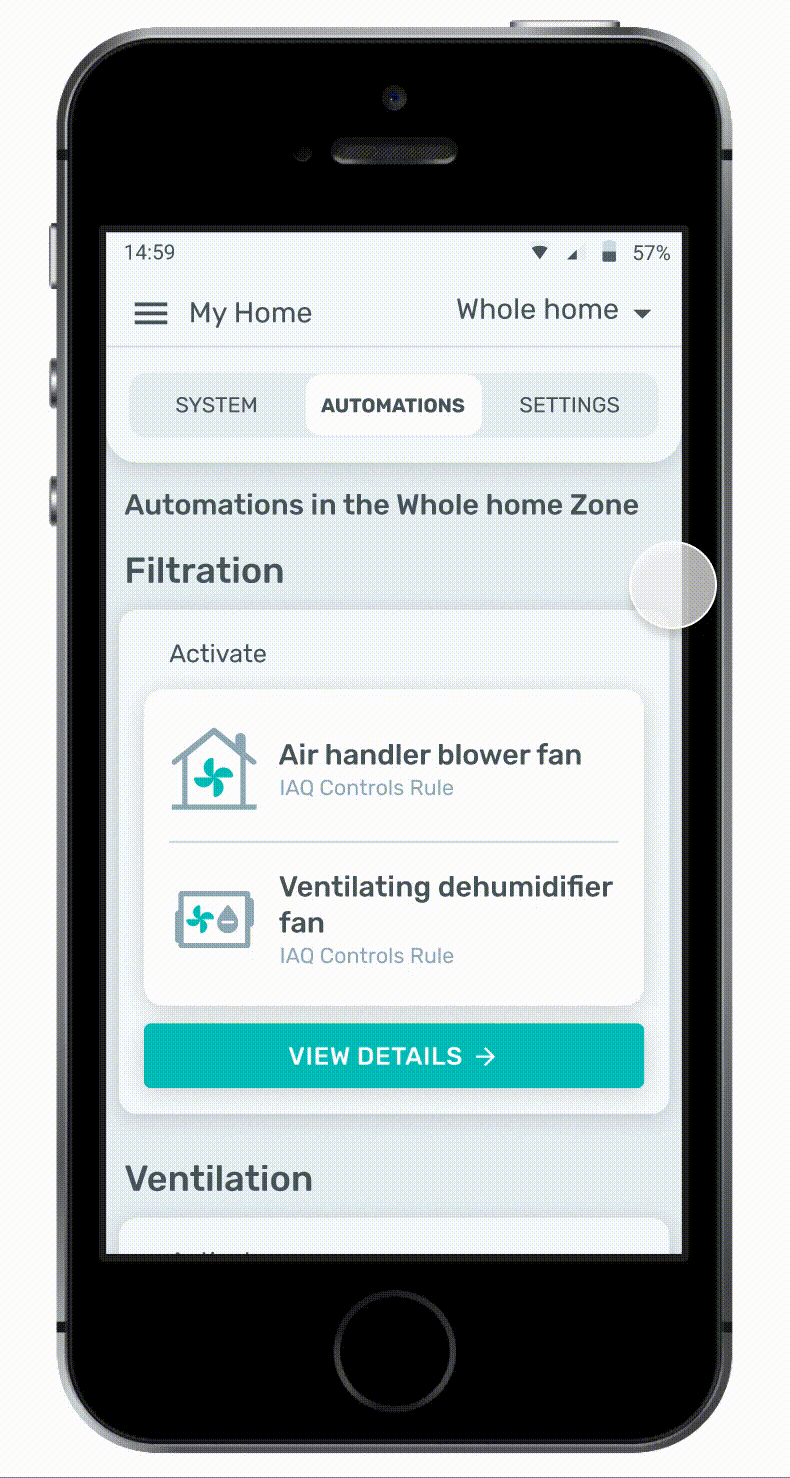 Allows them to EDIT Automation settings, by tapping "View details" from the list of Automations.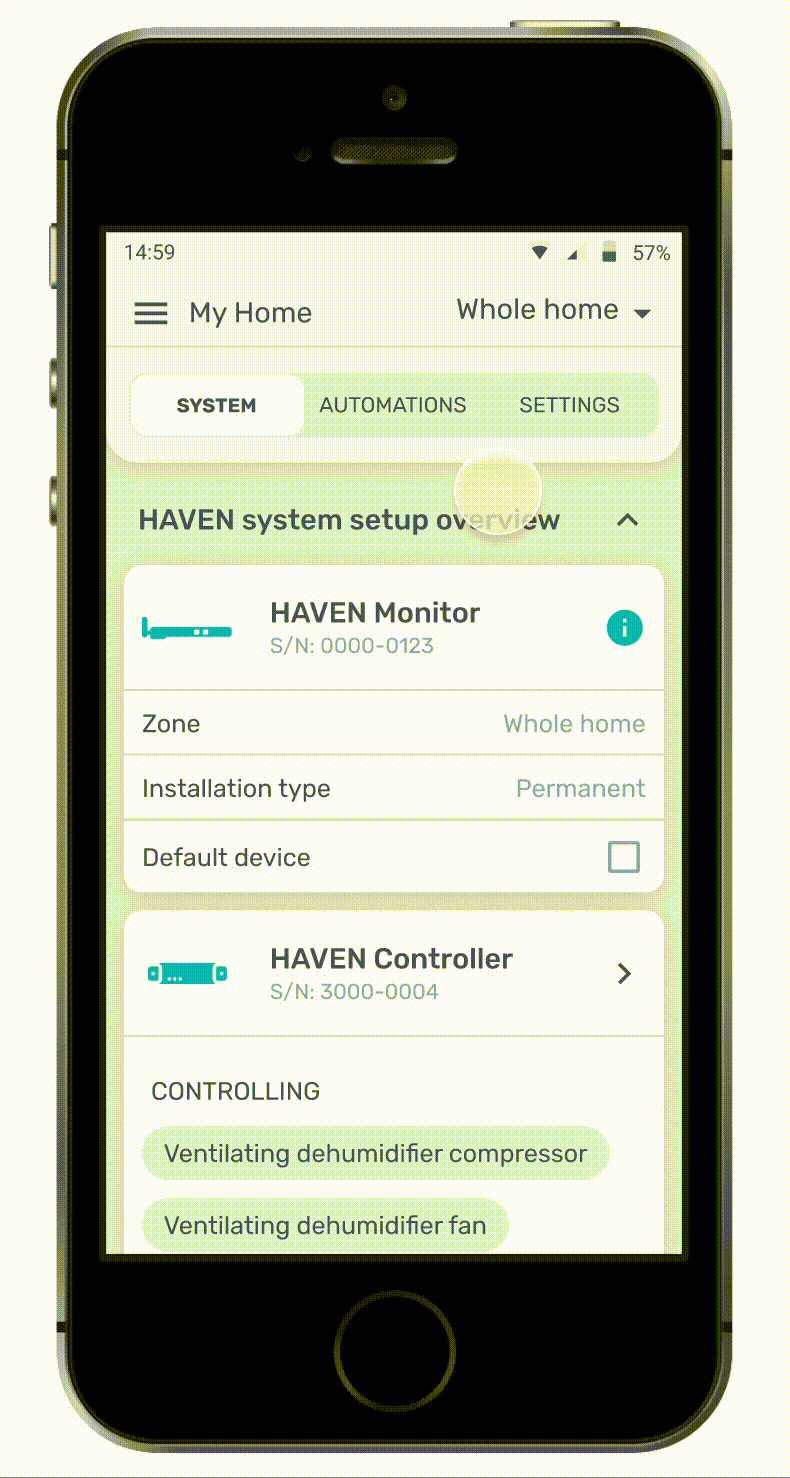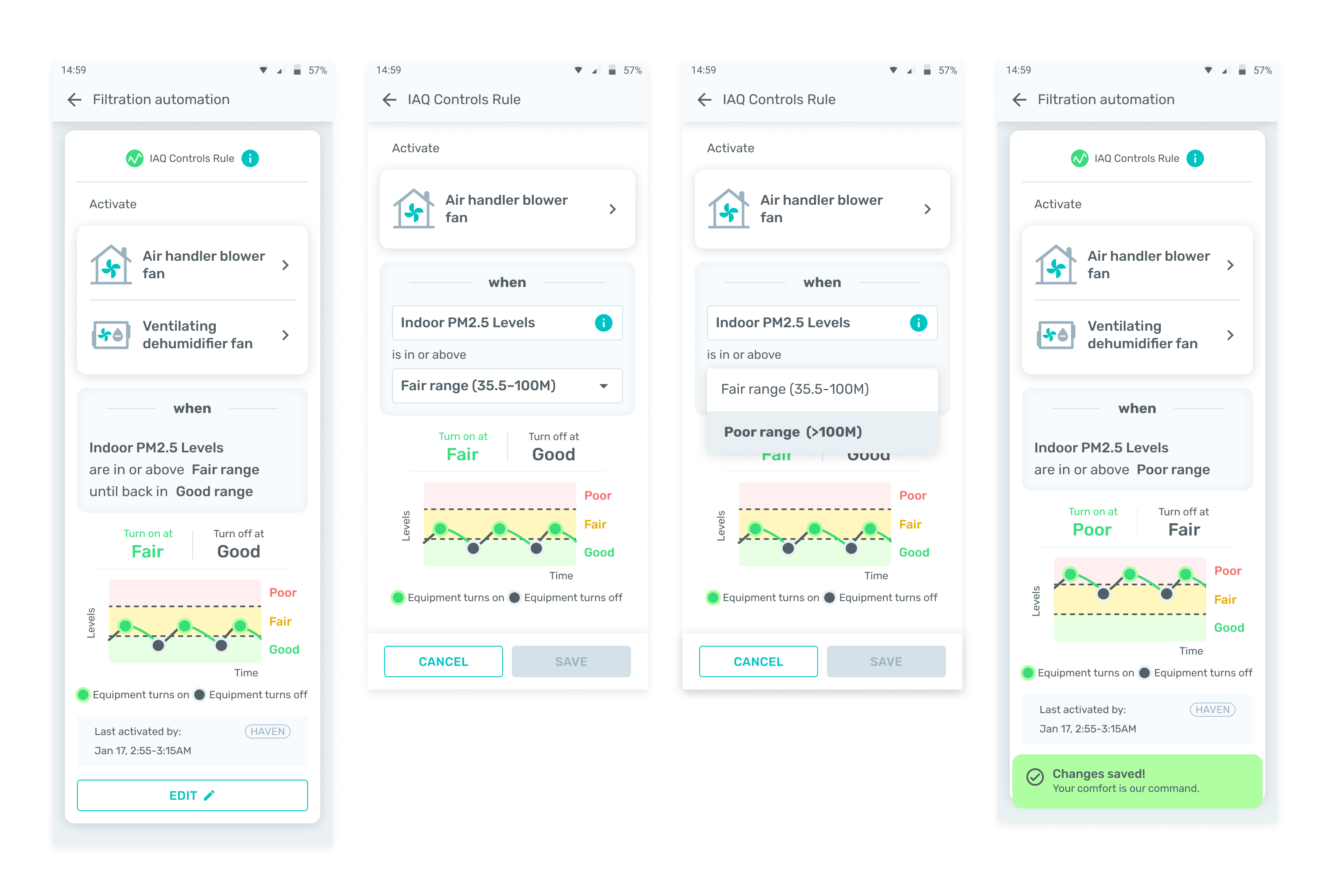 To turn the Automation on/off, tap "VIEW DETAILS" and then select "OVERRIDE"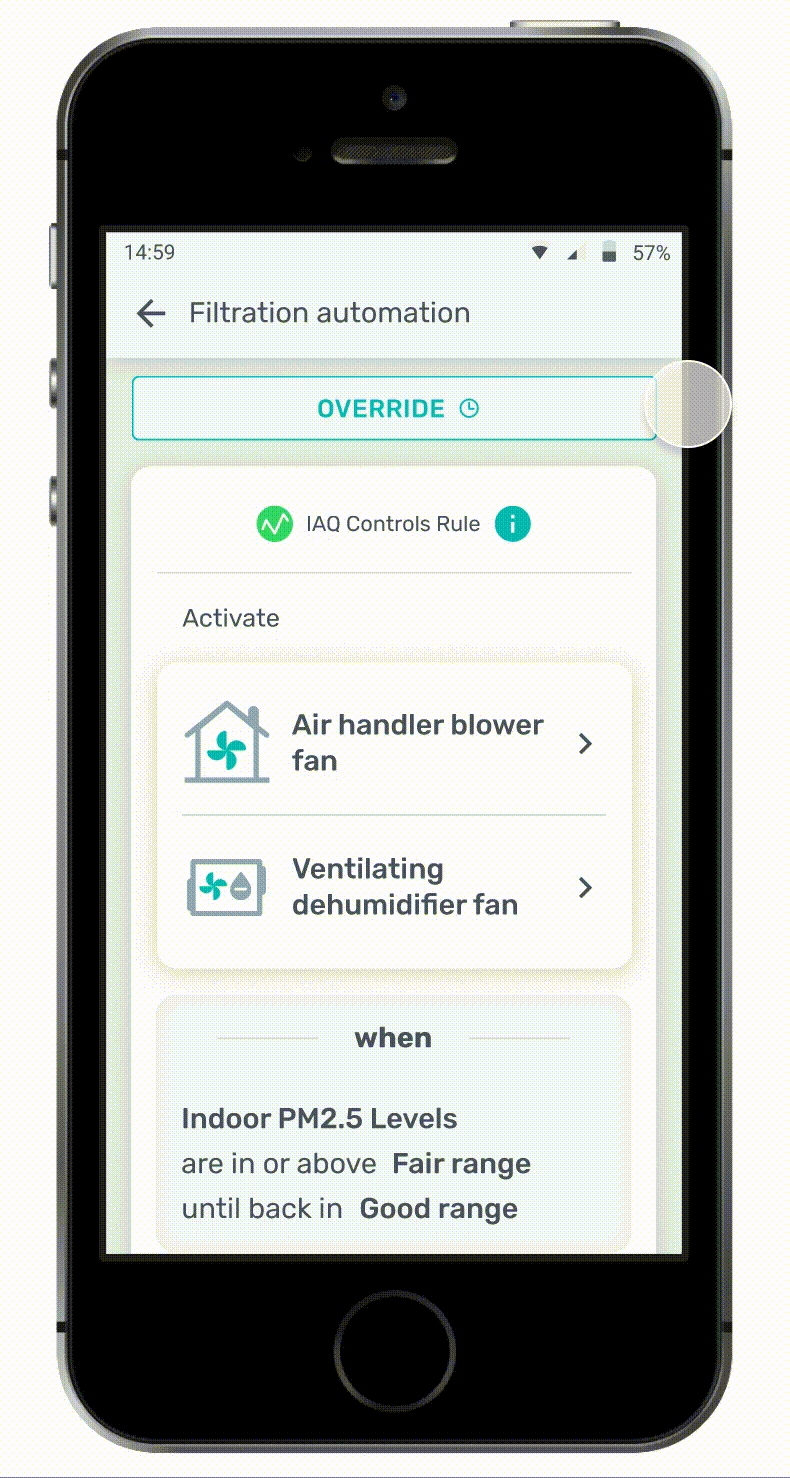 Still to come
You may notice a lag when you log into the app for the first time. We're working to increase the efficiency in the back end, don't worry!

Also, the Dashboard may not yet show all the equipment that is installed in the home. We're chipping away at this and should have some improvements launched soon. For now, homeowners can just use the My Home/Automations page for reference.

Because this launch included a lot of backend server changes, the Pro Portal / Customer / Equipment page is the next thing our developers are tackling. We'll be launching editing capabilities that will give you a similar level of control as what your customers have gotten as well, making sure you can take care of them remotely.

We've separated the concept of "Circulation Schedule" from the "IAQ Controls Rules". Previously, homeowners with basic automations could manipulate the IAQ Rule for a piece of equipment that was getting activated on a Schedule. This would have been handy to alter de/humidification settings for daytime/nighttime, reducing the chance of condensation on the windows. We plan on bringing you dynamic IAQ Rules that respond to outdoor conditions (RH/T) which will address this issue in 2024. Let us know if you have any thoughts in the meantime!
Thank you so much for your ongoing patience. We're so grateful this industry is full of such wholesome Pros.